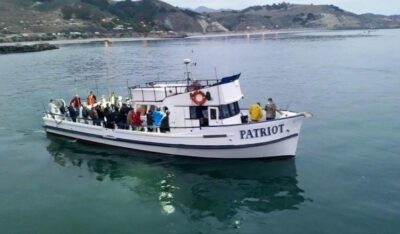 Captain Jay Gavin – Owned by PATRIOT SPORTFISHING, INC.
Size: 55′ – Full Galley
Capacity: 39 Passengers
When it comes to astounding vessels, the Patriot hits the mark. The Patriot is comfortable, stable and spacious even when at full capacity with plenty of rail space. The vessel is equipped with all the latest electronics. The Patriot has a large bait tank, full service galley ready to provide a hot breakfast, lunch or snack. Captain Jay, Deckhands Brad and Dustin are accommodating, efficient and work hard to provide you the best fishing excursion possible.
The Patriot is the only vessel to offer crab fishing on the Central Coast. Our pots are preset and after a day of rockcod fishing we pull our pots with fresh crab. Each passenger can go home with up to 6 fresh crab. Check our booking schedule for Rockcod and Crab Trips.
Whether you are just new or a lifelong angler, we have the perfect trip for you. Book your trip today with Morro Bay Landing or Patriot Sportfishing in Avila Beach, Port San Luis.
Charter Prices: Call for details
Burials at sea: Call for details
POLICIES:
All charters require a 100% deposit at time of booking.
Photo ID required for all passengers 18 and older. California fishing licenses are required for all anglers 16 years of age and older.
Live Bait provided when available. No guarantees of type or size.
Ice chests, glass containers, and alcoholic beverages are not to be brought aboard the boats.
All prices are subject to change without notice.
CA Licenses, Fishing Tackle, Food, Beverages, Fish Filleting and Gratuities are additional on all trips unless otherwise noted.
Fishing Pole and Tackle Set Up is an additional fee – THIS FEE WILL BE EXTRA AND WILL NOT BE INCLUDED WITH YOUR BOAT TICKET.
We reserve the right to substitute boats in the unlikely event the scheduled boat is not available.